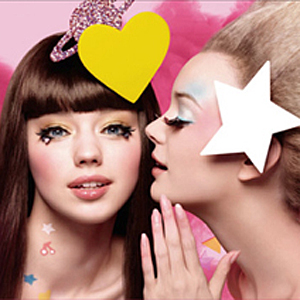 I consider myself as a cross dresser, because I have changed my title a lot. Recently, I am a full-time UI designer. But somehow I prefer being an illustrator and handmade craft creator. In this year, I will try to play all these roles ( UI designer, Graphic Designer, Illustrator…& a GOOD wife) at the same time :))A big challenge ahead!
BTW, I have never thought that I would be an UI designer one day. It is so ridiculous or even hilarious that I have learnt so much at light speed and could be pretty confident to switch to a new area. A area that I used to feel worried and afraid of.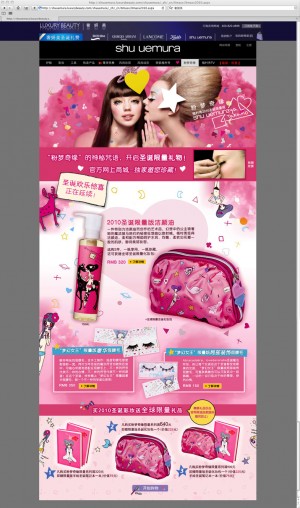 I have done some landing pages and EDM for big brands like Shu Uemura, Kiehls' last year…But that was boring! Some big brands have their strict rules and established styles, which sometimes would be a poison to me…But lucky, i am working for a few small brands now.
是呀~怎么就成为了界面设计师了,貌似就比平面设计师的科技含量高很多嘛~
旁边是我为植村秀设计的landing page.
呵呵…其实做这个设计的时候挺感慨的,这品牌一直会和一些插画家合作,但是自己却不能成为一位出色的插画家,只能成为一名无名的设计师,为该品牌的中国区圣诞活动做平面的设计工作。其实人生就是这样,我一早就不稀罕什么名誉,只是觉得有点可笑,也觉得自己这几年工作范围确实变了很多。
一直挣扎要不要放上来,因为实在没有什么体现个人能力的地方,唯一的感觉,就是客户比设计难搞,人际关系比工作难搞…最后,发现自己的自信像被针扎破的气球,不知跑哪里去了。
不过还好,我那坚韧的性格是不会真的被什么事情给击垮的,所以还是坚强地敦促自己不断加速学习的速度,加快工作的效率。从2009年以来,应该要很感谢那些批评和打击过我的人,没有他们,哪里会有今天的我呢?